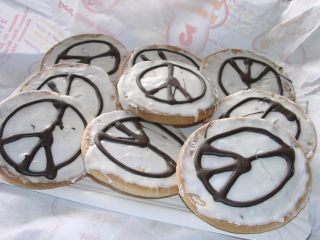 In Germany, part of good old europe, we've got these funny and sweet cakes called »Amerikaner« ("Americans"). A strange name for a cake, but i've been told that it was a kind of tribute to the US-troups after World War II. A small bakery in Solingen, home of the sharp knives :-), decided to add a little bit of choclate in the form of the classic peace-sign as a statement against the war in Iraq. A few cents of each sold cookie will be donated to a peace project in Iraq.
In Deutschland ist das oben zu sehende Gebäck unter dem Namen »Amerikaner« bekannt. Der Name dieser deutschen Spezialität mit dem schwarz-weissen Zuckerguß soll angeblich auf die Nachkriegszeit zurückgehen, als eine Anspielung auf die hell- und dunkelhäutigen US-Soldaten, die Deutschland befreiten.
Eine Bäckerei in Solingen (Stadt der scharfen Messer :-)) hat vor einigen Tagen begonnen, ihre Amerikaner mit einen Schoko-Friedenszeichen zu versehen. Ein paar Cent von diesen Friedens-Amerikanern gehen an ein Friedensprojekt im Irak.
Click on the picture to get a 1200x750 version.